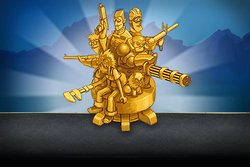 "Exactly 1 year ago today, Z2 was blessed with a beautiful little baby named Battle Nations!"
— Ikki
Battle Nations' 1 Year Anniversary was a promotional event that rewarded players with 3x the normal

 Skill Points towards Promotion as well as 3x the normal

 Victory Points earned in PvP battles. In addition to the increased VP rewards, PvP army cooldowns were reduced from 2 hours to 1 hour.
Lastly, the Commemorative Statue was available for construction, providing a +15% resource collection bonus to all resource buildings in its bonus radius.
By combining one of the premium SP Boosts with the triple SP bonus of this event, it was possible to get up to 6x the normal SP rewards.
Active: November 14th - November 19th, 2012 [1]
Official Announcement
Citizens,

Exactly 1 year ago today, at 9:15pm PST, Z2 was blessed with a beautiful little baby named Battle Nations!

It has been an exceptional year, watching our little bundle of joy grow, mature, and take us on great, epic adventures. Looking back at our 15+ updates, Battle Nations has really come a long way. We've recruited and trained countless new units and vehicles, and enabled their promotion to higher ranks. We've battled Raiders, Silver Wolves, Animals, drunk Frontier Citizens, and Infected mutant-troops. We've introduced new features like Prestige, Assistance, Building Upgrades, and Combat Attacks. We added a platform, allowing you all to play on Mac! We've grown to love our cast and crew of amazing characters and the stories they share with us.

In short: we've laughed, we've cried (remember that server downtime back in June? That sucked.), and we've had a blast beating each other and our armies to a bloody freakin' pulp. We raise our hypothetical glasses to all of you, our amazing players, without whom none of this would have been possible! CHEERS!

Ok everyone, wipe your eyes, blow your nose, and get ready to party! We're celebrating our anniversary with you in a big way:



3x SP : 2x SP is SO last month! What's hot now is 3X SP. Storm the battlefield with invigorated troops, as victorious battles will result in faster promotions than ever.
3x VP : Everyone's a winner this weekend! Engage in PVP battles and win or lose, you'll get 3X the normal points.
Decreased Army Cool Down : We understand that 3x VP means a TON of PVP action this weekend. To help keep you beating up on fools, we're decreasing army cool down times! Your units will return to service, ready to get back in the fight in half the time.
Commemorative Statue : Our characters get cast in gold for all your citizens to idolize! There's a good reason to pay it tribute, it speeds up resource production! Get our Commemorative Statue, place it near resource nodes, and watch those nodes produce more, more, more!
In all seriousness, we're humbled and forever grateful for your die-hard dedication and continued support of Battle Nations. This first year has been incredible, and we look forward to sharing many more with you all in the future!
See you on the battlefield!
The Battle Nations Team
See also:
Edit
References
Edit
Ad blocker interference detected!
Wikia is a free-to-use site that makes money from advertising. We have a modified experience for viewers using ad blockers

Wikia is not accessible if you've made further modifications. Remove the custom ad blocker rule(s) and the page will load as expected.