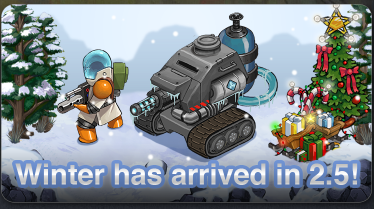 Announced: December 11, 2012


Released: December 11, 2012
The holidays have arrived at your base! Celebrate with new winter themed missions, decor and units to bring in the New Year, Battle Nations style! Read on for all the details:
Missions: This update delivers new holiday themed missions for you to enjoy! Follow Perkins on his quest to bring Festivus cheer to his friends all over the Frontier. Complete all the new 2.5 missions before the end of the holiday season to earn a special reward!
New Decor: Each culture in the Battle Nations world uniquely celebrates the holidays. Decorate your base with festive items from various holiday themes- Frontier style Winter Jubilee, Imperial style Festivus and the Raiders' Dawnbringer Feast.
New Units: There are two brand-new Cryogenic units in this update that use ice to their advantage! Don't just stun enemy troops, freeze them! Freezing rivals stuns them AND makes them take extra damage!
Frostbite: Demolish enemies with blasts of frozen matter! This tank delivers serious frostbite to those brave enough to challenge it.
Cryo Trooper: Use a Cryogenic Rifle to freeze enemies! Winter takes on a whole new meaning with this dangerously chilling troop!
Bug Fixes: We've included many bug fixes in this update including:
An issue where the interface displays Nanopod balance as zero
Issues where players are unable to collect healed troops from the Hospital
ZZZ's incorrectly displaying when the Hospital is actively healing units in a queue
Source: http://forums.z2.com/viewtopic.php?f=102&t=35754/
Ad blocker interference detected!
Wikia is a free-to-use site that makes money from advertising. We have a modified experience for viewers using ad blockers

Wikia is not accessible if you've made further modifications. Remove the custom ad blocker rule(s) and the page will load as expected.