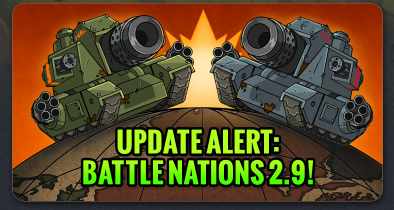 Announced: May 20, 2013
Released: May 22, 2013

Nations: The long awaited feature has finally arrived! You will now be able to create, join and manage Nations of up to 100 players. In addition to this system, we're introducing a Chat function for your Nation so all members will be able to communicate with each other in one place.
New Missions: 15 new missions with this update! Floyd's research on Spider Wasps continues despite their hostile nature. In addition, be prepared to meet an old friend and to face off with an old foe. We hope your armies are ready as these latest missions were designed with our high leveled players in mind.
New Units: Several new units ready are to join your ranks.
Unmanned Turrets: Unlike the turrets on your outpost, these can be brought into any battle. The Unmanned Machine Gun Turret, Unmanned Laser Turret and Unmanned Flame Turret are ready to take on any opposition. They even come with warranties! (Warranty void if engaged in battle.)
New Decorations: Non-verbal communication technology has reached a new pinnacle with the introduction of signs! Now you can tell other players what to Assist and what not to Occupy. These decorations include Arrow Sign, Assist Sign, No Occupy Sign.
We're also introducing two new Prestige decorations: A Raptor Statue and a Raider Victory Tree. Please remember that this means that the two current Prestige decorations (Useless Tank and Glass Cannon) will be leaving the Build Menu once this update is live.
Other decorations added are the Willow Tree, Propane Tank, Satellite Tower, Bug Zapper and Neon Sign.
Unit Balance Fixes:
Ranger: Brought the level requirement for this unit down to 20.
Riot Truck: The Riot Truck's hose ability is no longer an indirect targeted attack, but instead a tap to target attack.
Player Sandworms: Conversely, the Sandworms' spit attack is now an indirectly-targeted attack, rather than a tap-to-target attack. This allows the player to preview the Area of Effect.
Light Chem Tank, Flame Turret, Salamander, Firedrake, Heavy Recon, Tamed Sandworm, Tamed Adult Sandworm, Young Worm, Laser Tank, and Enemy Sandworms: There was a bug with one of the attacks that caused damage to units not in range. The affected weapons are the ones that hit in a straight line in front of these unit such as the Light Chem Tank's Chemical Burst attack.
Veteran: Slight increase in dodge and defense from Rank 4 to Rank 5.
Ancient Sentinel: Slight increase in difficulty, but the rewards for defeating it have increased.
Bigfoot Units: Slight decrease in Teeth price for the Bigfoot.
Bug Fixes:
Fixed a bug where the level up pop up would sometimes appear and award you stars when collecting experience if you had maxed out stars.
Increased validation on resource updates from mines in an effort to stop cheating.
Increased validation on the number of units you could place in a battle in an effort to stop cheating.
Attempting to put units into an uncollected garrison building will now cause a server exception instead of putting your land into a weird state.
Fixed a bug where mission jobs would calculate the wrong value for rewards sometimes.
Source: http://forums.z2.com/viewtopic.php?f=105&t=45536
Ad blocker interference detected!
Wikia is a free-to-use site that makes money from advertising. We have a modified experience for viewers using ad blockers

Wikia is not accessible if you've made further modifications. Remove the custom ad blocker rule(s) and the page will load as expected.