Animal Trainer
Building Type
Military
Unit Type Produced
Animals
Population
-5
Population When Inactive
-2
Size
5 x 5
Unlocked
Level 10
Cost
Stone
1,200
Wood
750
Construction Time
1d
Sell Price
 10  10
Max Assists
10
Assisted Bonus
 +15m
Reward for Assisting
 75
Reward for Raiding
 75
Reward for Occupation
 285
"What better way to bring the frontier to its knees than to assert dominance over nature itself? It's time these beasts learn to serve the Emperor!"
— In-game Description
The Animal Trainer is used to train animals for combat, costing 

 and other resources. The various critters also require the appropriate pens and ranches to train, in addition to specific building levels (e.g. in order to train a Battle Raptor, you must first build a Raptor Ranch).
There are younger versions available for training that does not require

nor the appropriate ranches and pens, but will cost

instead. The "Young" versions are considerably weaker than their adult family members. Previously, a player could train any young animal with a level 1 Animal Trainer, but due to updates, you can train a Raptor with a level 1 animal trainer, and you unlock the younger version 1 level before the adult version. Young animals require

to heal though.
The Tamed Sandworm was permanently added to the list of trainable critters in 2.2. Unlike the other adult animals, it requires

rather than

to train.
It should also be worth noting that to train the higher critters such as the Mammoth and Boar, they require the Animal Trainer to level up, which costs ten Teeth. This is however only for the first two levels, then you can upgrade it with resources to level ten. Leveling reduces teeth cost for the trainable animals.
Trainable Units
Edit
Animal Trainer Levels
Building Level
1
2
3
4
5
6
7
8
9
10
Cost Reduction
-0%
-0%
-0%
-0%
-5%
-10%
-15%
-20%
-25%
-30%
Time Reduction
-0%
-8%
-17%
-25%
-33%
-42%
-50%
-58%
-67%
-75%
Gold Cost
-
100
300
1,000
4,000
8,000
16,000
28,000
46,000
54,000
Stone Cost
1,200
-
-
300
1,200
3,000
-
-
-
-
Wood Cost
750
-
-
300
1,200
3,000
-
-
-
-
Concrete Cost
-
-
-
-
-
-
1,600
2,400
3,200
4,600
Lumber Cost
-
-
-
-
-
-
1,600
2,400
3,200
4,600
Teeth Cost
-
10
10
-
-
-
-
-
-
-
Time Cost
1d
5m
15m
1h
1h
2h
2h
4h
4h
8h
Animations
Edit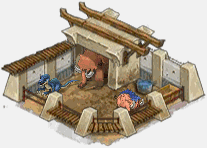 Idle/Active