Big Tonka's Mountain Ride
Building Type
Bonus Decor
Buildings Affected
Shops
Bonus Applied
 +2%  +8%
Bonus Radius
8
Limit per Building
1 Prestige
Size
5 x 5
Unlocked
Level 65, Unique
Cost
Gold
250,000
Concrete
5,000
Lumber
10,000
Prestige Stars
45
Sell Price
 20,000  100  500
Reward for Raiding
 25
Reward for Occupation
 95
"Bring a little fun to the Outpost with a non-government approved rollercoaster ride. We are not responsible for death, dismemberment, or injury, but it sure would be fun to watch."
— In-game Description
The Big Tonka's Mountain Ride is a Prestige statue added in the 3.2 Patch over a server-side update, together with the Annual Jubilee Charity Drive and Level 65 Commemorative Statue, costing 45
and Tier 2 resources. It boosts shops'

and

by 2% and 8% respectively, which is relatively low when compared to other
-costing statues released in the previous patches. However, this building is still a must-have for serious trophy collectors, just for boasting rights.
It is good to note that the boosts this statue gives do not stack up with the boosts from other Prestige statues like the Shattered Monument.
This is the biggest decoration up to date.
Following another server-side update, this Decoration now has an animation of a Trooper riding the rollercoaster.
Animation
Edit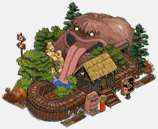 Ad blocker interference detected!
Wikia is a free-to-use site that makes money from advertising. We have a modified experience for viewers using ad blockers

Wikia is not accessible if you've made further modifications. Remove the custom ad blocker rule(s) and the page will load as expected.