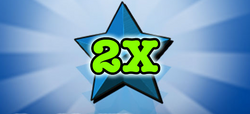 "This weekend you'll find that you're earning DOUBLE XP throughout your Outpost! If you're looking to gain some (or a bunch) of levels, now is your chance to do it fast. Earn more XP as you complete jobs, collect taxes and complete missions."
— Ikki
Double XP Events are, like their name suggests, promotional events that double all

XP earned by players for a limited amount of time. Players can earn

XP through completing Missions, collecting goods and taxes from Shops and Housing, or by promoting units. As of the 4.0.1 Patch, there are two types Double XP events: "Double XP Weekends" and "XP Extravaganzas".
The Double XP Weekend was the first and only kind of Double XP Event until the 3.3 Patch, when XP Extravaganza was introduced. Double XP Weekends occurred rarely, giving players only a few days to level up a few levels before the event ended. The Extravaganzas seemed to have replaced the regular Double XP Weekends and include an added 50% discount on the purchasable Super XP Boost.
So far, there have been a lot of Double XP Events:
Double XP Weekends:
September 2012
November 2012
October 2013
November 2013
December 2013/January 2014
XP Extravaganzas:
February 2014
March 2014
April 2014
May 2014
June 2014
July 2014
August 2014
September 2014
October 2014
November 2014
December 2014
January 2015
February 2015
March 2015
April 2015
May 2015
Other Double XP Events:
Veteran Sale & 2x XP, June 2013
Event Tips
Edit
XP Boost Stacking
Edit
When any Double XP event starts, players still have the option to purchase an XP boost for Nanopods. Thus, if a player decides to purchase an XP boost during the event, the boost will be stacked upon the existing event and all

earned by the player will be quadrupled (x4).
Note: Only one boost can be active at any time.
Name
Benefit
Cost
Duration
Sale
Short XP Boost
+100%
 80
1 day

-

Long XP Boost
+100%
 160
3 days

-

Super XP Boost
+100%
 220
7 days
50% off during XP Extravaganza


( 110)
Ad blocker interference detected!
Wikia is a free-to-use site that makes money from advertising. We have a modified experience for viewers using ad blockers

Wikia is not accessible if you've made further modifications. Remove the custom ad blocker rule(s) and the page will load as expected.