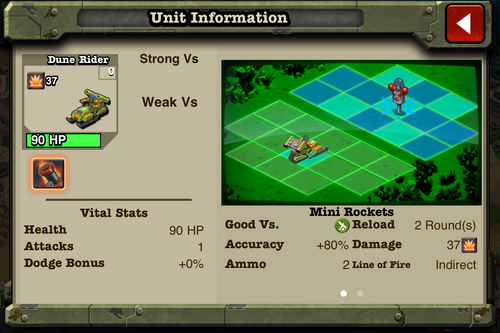 Dune Rider/Pre 1.3
Unit Type

Fast Vehicle

Unlocked

Level 16

HP

90

Damage

 37

Weapon

Mini Rockets

Reload Time

2 Rounds

Ammo

2

Accuracy

+80%

Line of Fire

Indirect

Range

1-5 Rows

Targets

Ground

Production
Healing Costs
Dune Riders are vehicles in Battle Nations. They have only average attack and defense, however, their indirect fire, ability to hit any row, and 5-tile splash-damage attack all have strategic value. Dune Riders have a higher effectiveness against other artillery pieces, though a limited ammunition stock and the long reload time means they are a very situational premium unit. Upon unlocking Rocket Trucks, Dune Riders can be a waste of Nanopods due to them having lower damage and health points than Rocket Trucks.
Ad blocker interference detected!
Wikia is a free-to-use site that makes money from advertising. We have a modified experience for viewers using ad blockers

Wikia is not accessible if you've made further modifications. Remove the custom ad blocker rule(s) and the page will load as expected.