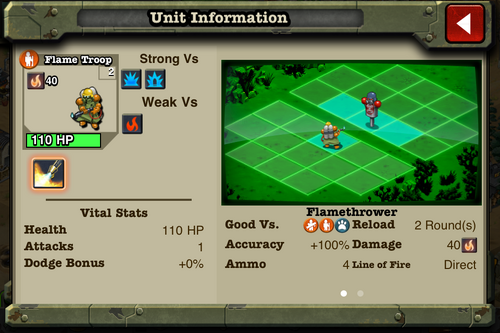 Flame Troop/Pre 1.3
Unit Type

Light Infantry

Unlocked

Level 2

HP

110

Damage

 40

Weapon

Flamethrower

Reload Time

2 Rounds

Ammo

4

Accuracy

+100%

Line of Fire

Direct

Range

1 Row

Targets

Ground

Production
Healing Costs
The Flame Troop is a premium light infantry unit armed with a flamethrower, and is considerably useful for handling massed soldiers. This unit hold only four shots per combat, and can only attack at a range of one row. Their flamethrowers are useful against Animal-type enemies (such as Raptors or Boars), or other infantry units.
Shortly after reaching level 11 and finishing the quest chain relating to Iron Deposits you will be granted two Flame Troops for free.
Ad blocker interference detected!
Wikia is a free-to-use site that makes money from advertising. We have a modified experience for viewers using ad blockers

Wikia is not accessible if you've made further modifications. Remove the custom ad blocker rule(s) and the page will load as expected.