Unreleased content

This article is about content that has yet to be released. Some of the information may be inaccurate or likely to change.
Gas Power Plant
Building Type
Decoration
Size
3 x 3
Cost
Gold
30,000
Lumber
5,000
Sell Price
 10
Reward for Raiding
 20
Reward for Occupation
 76
A few Gas Power Plants can be found at the RED Base.
Currently no further information available about this decoration.
Full name: Gas Power Plant
Game file name: deco_powerplant_gas
Animation
Edit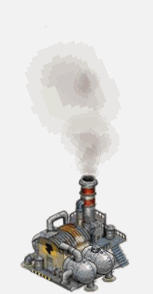 Ad blocker interference detected!
Wikia is a free-to-use site that makes money from advertising. We have a modified experience for viewers using ad blockers

Wikia is not accessible if you've made further modifications. Remove the custom ad blocker rule(s) and the page will load as expected.