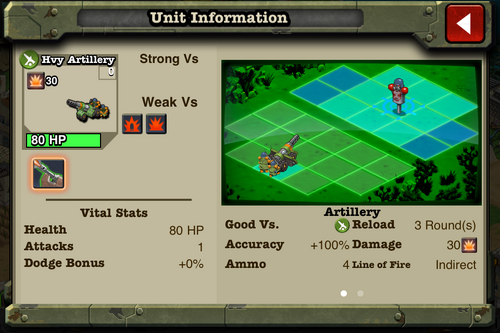 Heavy Artillery/Pre 1.3
Unit Type

Artillery

Unlocked

Level 28

HP

80

Damage

 30

Weapon

Artillery

Reload Time

3 Rounds

Ammo

4

Accuracy

+100%

Line of Fire

Indirect

Range

2-5 Rows

Targets

Ground

Production
Healing Costs
A premium vehicle, the Heavy Artillery is a souped-up version of the Light Artillery, with more HP and slightly more damage. The long reload time of the cannon permits to avoid using up its ammunition too quickly, and the unit has a very good value of power to it, being able to hit all surrounding tiles around the designated target, for a total of 1 (direct) + 8 tiles of splash damage.
Damage distribution is 100% in the center tile, 65% in the side tiles, and 30% in the corner tiles.
e.g. assuming no other damage modifiers, Heavy Artillery would deal 30 DMG in the center tile, 20 DMG in the side tiles, and 9 DMG in the corner tiles.
Ad blocker interference detected!
Wikia is a free-to-use site that makes money from advertising. We have a modified experience for viewers using ad blockers

Wikia is not accessible if you've made further modifications. Remove the custom ad blocker rule(s) and the page will load as expected.