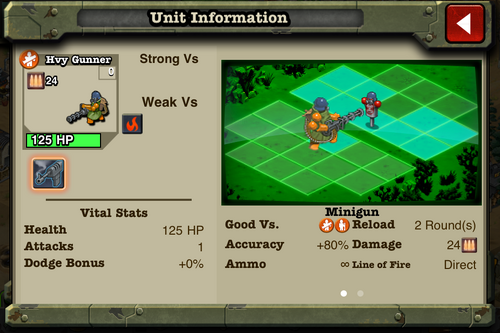 Heavy Gunner/Pre 1.3
Unit Type

Heavy Infantry

HP

125

Damage

 20

Weapon

Mini Gun

Reload Time

2 Rounds

Ammo

∞

Accuracy

+80%

Line of Fire

Direct

Range

1-2

Targets

Ground

Production
Healing Costs
The Heavy Gunner is a stronger version of a regular Gunner. It deals as much damage as a Trooper, but it can attack up to five targets if placed in the center of the battlefield. For a unit that attacks more than one target, a Heavy Gunner is a fine choice due to it having higher range than other multi-damaging units, but it doesn't kill as fast and, upon death, uses the player's gold and iron.
This unit is not recommended for PvP battles, due to high usage of Sharpshooters, Riot Troopers, and Vehicles. Prior of the 1.1 update, if one Heavy Gunner unit died in battle, one would not have to heal it in the Hospital, so losses did not seem too tragic.
Ad blocker interference detected!
Wikia is a free-to-use site that makes money from advertising. We have a modified experience for viewers using ad blockers

Wikia is not accessible if you've made further modifications. Remove the custom ad blocker rule(s) and the page will load as expected.