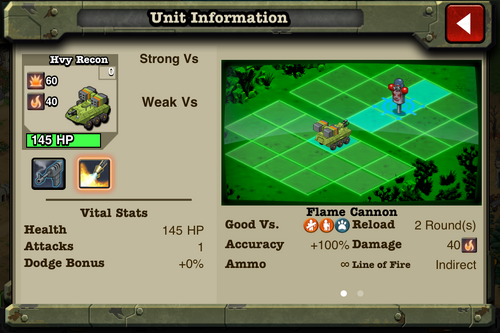 Heavy Recon Vehicle/Pre 1.3
Unit Type

Vehicle

Unlocked

Level 23

HP

145

Production
Healing Costs
The Heavy Recon is a premium vehicle which is one of few which have two attack modes.
The Rocket Strike shoots into a circle of 7 squares on the enemy side, but can only be fired once (enough to soften up enemy resistance).
The Flame Cannon has infinite ammunition, but unlike the Flame Troop (which sprays sideways) it hits its three tiles in-depth, straight in front of the vehicle.
As premium units go, you could do a lot worse. The 26 Nanopod-price tag is small enough to be reasonable, but high enough to make casual purchases a little less desirable.
Battle Statistics
Edit
HP
145
Rocket Strike
Flame Cannon
Attack
60 (1 Shot)
40, 35, 20
Accuracy
+85%
+100%
Line of Fire
Indirect
Indirect
Reload Time
4 Rounds
2 Rounds
Dodge Bonus
+0%
Range
1-3
1-3
Targets
Ground
Ground
Ad blocker interference detected!
Wikia is a free-to-use site that makes money from advertising. We have a modified experience for viewers using ad blockers

Wikia is not accessible if you've made further modifications. Remove the custom ad blocker rule(s) and the page will load as expected.