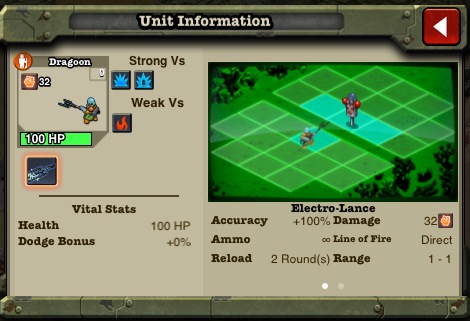 Imperial Dragoon/Pre 1.3
Unit Type

Light Infantry

HP

100

Damage

 32

Weapon

Electro-Lance

Reload Time

2 Rounds

Ammo

∞

Accuracy

+100%

Line of Fire

Direct

Range

1 Row

Targets

Ground

Production
Healing Costs
The Dragoon is a newly introduced premium unit, available after the 1.1 Update. They are relatively cheap, can hit a few units at once, and are available early. They use Melee type damage, the only unit which actually uses that type which is easily available to the player, but it poses no damage bonus as Melee deals normal damage to most units. These can be very useful for lower levels because they cost much less iron than flame troopers to heal.
Ad blocker interference detected!
Wikia is a free-to-use site that makes money from advertising. We have a modified experience for viewers using ad blockers

Wikia is not accessible if you've made further modifications. Remove the custom ad blocker rule(s) and the page will load as expected.