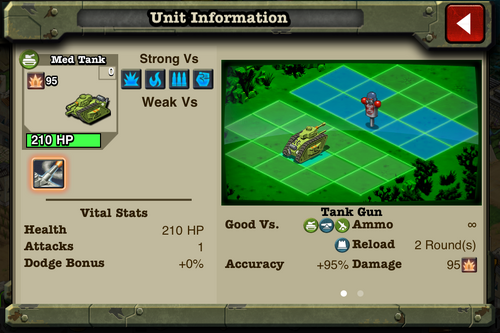 Medium Tank/Pre 1.3
Unit Type

Tank

Unlocked

Level 30

HP

210

Damage

Weapon

Tank Gun

Reload Time

2 Rounds

Ammo

∞

Accuracy

+95%

Line of Fire

Direct

Range

1-3 Rows

Targets

Ground

Production
Healing Costs
The Medium Tank is a tougher, meaner version of the Light Tank. This premium vehicle has a pretty steep Nanopod cost, but it may just be worth it. This vehicle is a ferocious one: owning one means you are able to dominate any Riot Trooper, armored vehicles, and towers.
Ad blocker interference detected!
Wikia is a free-to-use site that makes money from advertising. We have a modified experience for viewers using ad blockers

Wikia is not accessible if you've made further modifications. Remove the custom ad blocker rule(s) and the page will load as expected.