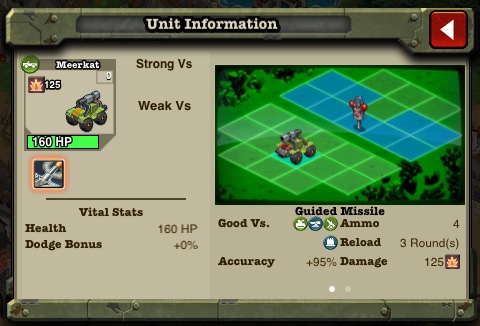 Meerkat/Pre 1.3
Unit Type

Tank

Unlocked

Level 33

HP

160

Damage

 125

Weapon

Quad Machine Guns

Reload Time

3 Rounds

Ammo

4

Accuracy

+95%

Line of Fire

Direct

Range

1-3 Rows

Targets

Ground

Production
Healing Costs
The Meerkat is a light vehicle released in 1.2 Patch, and is a premium unit available after Level 33. It functions as a multi-shot Gun Truck, and that can be a real bargain for those who need an edge. The improved accuracy and ammunition capacity also make it a good candidate for replacing Bazooka teams. Its high damaging rockets can do over 200 damage, which tends to happen against lower defense tank units. Also it is very helpful for taking out fortifications like in Gantas' Fortress because of the high damage, high accuracy and ammunition.
Ad blocker interference detected!
Wikia is a free-to-use site that makes money from advertising. We have a modified experience for viewers using ad blockers

Wikia is not accessible if you've made further modifications. Remove the custom ad blocker rule(s) and the page will load as expected.