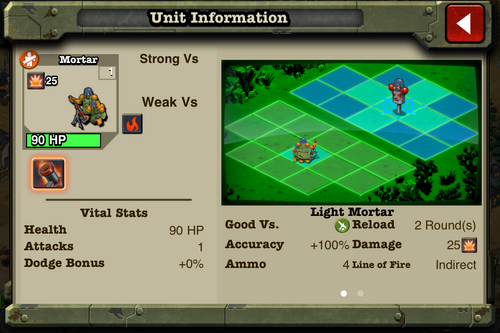 Mortar/Pre 1.3
Unit Type

Infantry

HP

90

Damage

 25

Weapon

Light Mortar

Reload Time

2 Rounds

Ammo

4

Accuracy

+100%

Line of Fire

Indirect

Range

2-4 Rows

Targets

Ground

Production
Healing Costs
The Mortar is a premium unit, requiring Nanopods to produce. It is a decent choice as it sports high range and splash damage, but as the player levels up and unlocks the Light Artillery, the Mortar Truck, and the Heavy Artillery, the Mortar will become useless. The splash damage can be useful to kill off enemies who have low health without wasting multiple turns. Through a mission, one will receive a Mortar for free early in the game.
Ad blocker interference detected!
Wikia is a free-to-use site that makes money from advertising. We have a modified experience for viewers using ad blockers

Wikia is not accessible if you've made further modifications. Remove the custom ad blocker rule(s) and the page will load as expected.