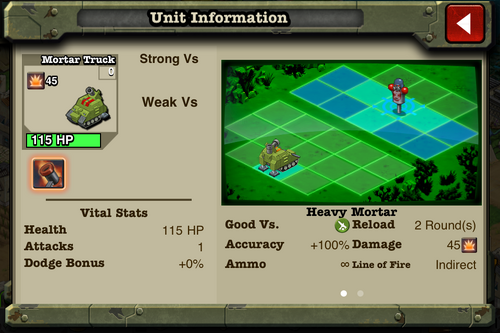 Mortar Truck/Pre 1.3
Unlocked

Level 26

HP

115

Damage

 45

Weapon

Heavy Mortar

Reload Time

2 Rounds

Ammo

∞

Accuracy

+100%

Line of Fire

Indirect

Range

2-4 Rows

Targets

Ground

Production
Healing Costs
The Mortar Truck is another take on artillery, and is functionally similar to the Light Artillery and Mortar. The only difference being the Mortar Truck deals more damage, has more HP, and also an infinite amount of ammunition.
The Heavy Mortar weapon of the truck deals 100% damage (45 DMG) in the target square, and 25% damage (12 DMG, rounded up) in the four adjacent squares. These values are modified further by the target's resistance to explosives, and whether the shot is deflected/critical.
Ad blocker interference detected!
Wikia is a free-to-use site that makes money from advertising. We have a modified experience for viewers using ad blockers

Wikia is not accessible if you've made further modifications. Remove the custom ad blocker rule(s) and the page will load as expected.