Ad blocker interference detected!
Wikia is a free-to-use site that makes money from advertising. We have a modified experience for viewers using ad blockers

Wikia is not accessible if you've made further modifications. Remove the custom ad blocker rule(s) and the page will load as expected.

"In the event that you should accidentally swallow a Nanopod, induce vomiting immediately and contact an executioner."
— Loading Screen
Nanopods are a resource used to buy premium items (units or structures) within the game, and cost real money to buy. One can also get them through promotions websites such as Tapjoy.com, watching videos, and by leveling up. They can also be used to hurry production time at a rate of one Nanopod per hour, rounded up. In single-player battles, a single Nanopod can be used to heal

 100 to a single unit, though this takes the player's turn - they cannot attack on the same round that you heal.
| Name | Amount | Cost ($) | Bonus | Cost (€) |
| --- | --- | --- | --- | --- |
| Vial (no longer available) | 20 Nanopods | 0.99 | 0.5% more | 0.89 |
| Bucket | 40 Nanopods | 1.99 | 0% more | 1.99 |
| Trunk | 110 Nanopods | 4.99 | 9.7% more | 4.99 |
| Barrel | 230 Nanopods | 9.99 | 14.5% more | 9.99 |
| Supply Crate | 500 Nanopods | 19.99 | 24.4% more | 19.99 |
| Shipping Container | 1300 Nanopods | 49.99 | 29.4% more | 49.99 |
| Barge | 2800 Nanopods | 99.99 | 39.3% more | 99.99 |
Note: Excluding Special Offers
Getting Nanopods
Edit
There are several ways to get Nanopods through the course of the game. The first is when the player is given

 1 at the beginning of the game, which the player has to use to speed up the production of the first unit. After that, players can either buy Nanopods (see cost), make them, or earn them.
Players gain

 10 every time they level up and they gain

 20 for completing the beginners tutorial and a bit further during the game there is a

 5 reward for completing the level 3 mission Tools of the Trade. There are also occasional limited time events where Nanopods are given as rewards for quests or as Tier rewards in Boss Strikes. Another way of earning Nanopods is playing PvP, as Tier 4 Victory Point rewards have a very small chance of giving up to

 100. The amount and chance varies by level.
It is also possible to earn free Nanopods through TapJoy on devices that are compatible with the app (most tablets and smartphones). These are earned by downloading other apps and trying them out as well as watching short commercial videos.
Lastly, Nanopods can be made by refining

 5 Black Nanopods into

 1 regular Nanopod at the Black Nanopod Facility.
Special Offers
Edit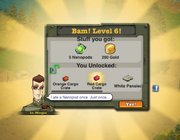 From Morgan's warnings as well as the loading screen text mentioned at the top, it can be assumed that consuming a nanopod will result in a very adverse reaction and most likely very painful, as even death is better.