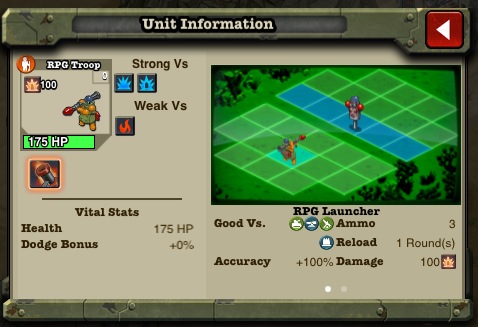 RPG Troop/Pre 1.3
Unit Type

Light Infantry

Unlocked

Level 31

HP

175

Damage

Weapon

RPG Launcher

Reload Time

1 Round

Ammo

3

Accuracy

+100%

Line of Fire

Direct

Range

1-2 Rows

Targets

Ground

Production
Healing Costs
The RPG Troop is a light infantry unit available once Level 31 is reached. It is a premium unit, requiring Nanopods to train, and is a lot like the Allied Cannoneer. It has a stronger attack type (Shell vs Explosive), and requires Nanopods as opposed to Skulls and a Raider Training Camp. When compared to the Bazooka, it is a much more desirable unit; it does not require the Weapons Factory to train, carries three shots instead of two, and has a 100% accuracy rating as opposed to a 95%. The loss of damage is quite possibly made up for by the ease of buying some of these.
Ad blocker interference detected!
Wikia is a free-to-use site that makes money from advertising. We have a modified experience for viewers using ad blockers

Wikia is not accessible if you've made further modifications. Remove the custom ad blocker rule(s) and the page will load as expected.