Spoiler warning!
This article contains plot details pertaining to the main story.
Raiders
Faction Type
Enemy
Operating Region
Northern Frontier
Main Enemy
95th Rifle Company
Current Status
Operating under Warlord Gantas
Current Leader
Warlord Gantas
Notable NPCs
Crazy Blades, Sarin, Tronk
Government Type
Dictatorship
Plot Relevance
Chapter 2
Battle Icon
Special Loot
 Skulls
The Raiders are NPC enemies encountered at the very beginning of the game and are the main focus of chapter one. Most of the Raiders are lead by Raider Warlord Gantas and live in Warlord Gantas' Fortress. Other Raiders are lead by Gantas three lieutenants Tronk, Sarin and Crazy Blades, a small remaining group of raiders that the player befriends during chapter one are led by Elder Taos.
The Raiders constantly attack the players land throughout the game (even after level 35). When the player defeats the raider parties attacking your land, the player will receive some gold (depending on the level of the Raider party). There is also a small chance of receiving a

from the Raiders, which can be used to build the Raider Training Camp, which can be used to train Raiders, for additional Skulls and resources.
The Raiders are angry at the players for setting up on what they consider their land. When Morgan attacks the Raider scout parties, Gantas tells them they came on peaceful terms and vows to destroy them for their ignorance.
After Warlord Gantas is defeated, Elder Taos becomes the raider that other raiders turn to for guidance.
Later on, Tronk took over the leadership of the Raiders. Sarin comes to your Outpost and requests help in defeating him, as Tronk is much crueler and brash in his leadership. Tronk became leader after the Raiders deem Crazy Blades as too eccentric, and since Sarin is an outcast. The player defeats Tronk, and the Raiders then turn to Sarin as their leader.
See also:
Edit
Player Units
Edit
Enemy Units
Edit
Normal Raiders
Edit
Brutal Raiders
Edit
NPC Characters
Edit
Boss Strike
Edit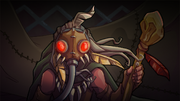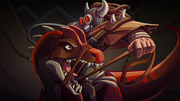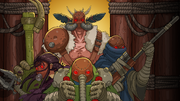 The following Boss Strikes featured Raiders:

Boss Strike 2: The Battle of Shaman Kuros


Boss Strike 5: Yuzul the Raptor Trainer


Boss Strike 8: The Battle of Shaman Kuros


Boss Strike 12: Raider Warlord Challenge


Boss Strike 14: Yuzul the Raptor Trainer


Boss Strike 20: Yuzul the Raptor Trainer
Raider Invasions
Edit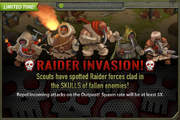 The following Invasion events featured Raiders:
Invasion Competition
Edit

The following Invasion Competitions featured Raiders:
Buildings
Edit


The following buildings and decorations are associated with Raiders:
Locations
Edit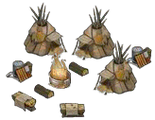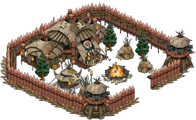 The following locations are associated with Raiders:
NPC Artwork
Edit
Mission Icons
Edit
Encounter Icons
Edit