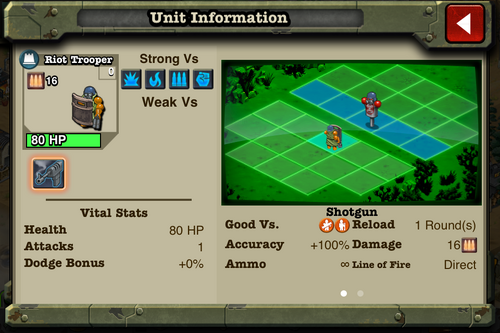 Riot Trooper/Pre 1.3
Unit Type

Fortress

Unlocked

Level 12

HP

80

Damage

 16

Weapon

Shotgun

Reload Time

1 Round

Ammo

∞

Accuracy

+100%

Line of Fire

Direct

Range

1 Row

Targets

Ground

Production
Healing Costs
The Riot Trooper is available immediately on reaching Level 12, and serve the function of front-rank defense. Their shotgun attack can hit anything in the opposing front row, while they can take a considerable punishment compared to normal Troopers, making their defense traits rather like a weak tank.
Very strong defending against Explosive, Fire, Projectile, and Unarmed weapons, they are only vulnerable to units who use Shell damage.
A mission shortly on reaching Level 12 will ask you to train 2 Riot Troopers.
Ad blocker interference detected!
Wikia is a free-to-use site that makes money from advertising. We have a modified experience for viewers using ad blockers

Wikia is not accessible if you've made further modifications. Remove the custom ad blocker rule(s) and the page will load as expected.