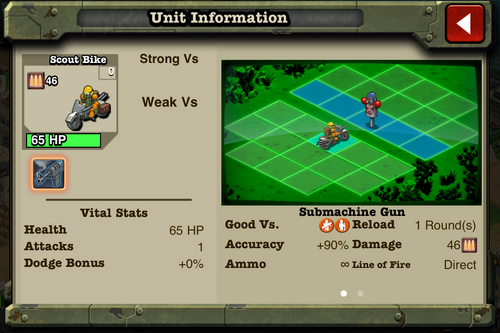 Scout Bike/Pre 1.3
Unit Type

Fast Vehicle

Unlocked

Level

HP

65

Damage

 46

Weapon

Submachine Gun

Reload Time

1 Round

Ammo

∞

Accuracy

+90%

Line of Fire

Direct

Range

1 Row

Targets

Ground

Production
Healing Costs
The Scout Bike is a light vehicle designed to attack the front row of your enemy. Relatively cheap compared to the other vehicles available, they can be very useful for taking out Boars and Raptors, but might not be suitable for attacking entrenched Raiders. The Scout Bike's armor and damage is comparable with the Shock Troop. When facing Raiders and Animals, the Scout Bike is like an expensive Shock Troop. Scout Bikes can be used in PvP battles to quickly take out any unit in front row that is not a Riot or an armored vehicle.
Ad blocker interference detected!
Wikia is a free-to-use site that makes money from advertising. We have a modified experience for viewers using ad blockers

Wikia is not accessible if you've made further modifications. Remove the custom ad blocker rule(s) and the page will load as expected.