Stone Quarry
Building Type
Resource
Resource Produced
Stone
Population
-3
Population When Inactive
-1
Size
4 x 4
Unlocked
Level 3
Cost
Gold
200
Construction Time
3s
Sell Price
 10
Max Assists
20
Reward for Assisting
 15
Reward for Raiding
 30
Reward for Occupation
 114
"Place the Stone Quarry on an outcropping of Stone to get... Stone."
— In-game Description
A Stone Quarry produces Stone at 10/hr at level 1, but can be quickly upgraded to boost production to 30/hr. Stone is a key resource early on in the game, but becomes less important quickly. There are seven Stone Outcrops for you to build on and exploit for resources, but you will have to expand your land before all can be obtained.
If players are desperate to boost Stone production, then they may want to purchase the Adv. Stone Quarry for the steep price of
 160. A less costly way to boost Stone production is to purchase a Stone Pile decoration, which gives a 10% increases to the mining production of a single Quarry for
 20.
Stone Quarry Levels
Building Level
1
2
3
4
5
6
7
8
9
10
Interval
 1h
Collected
10
20
30
40
50
60
70
80
90
100
Gold Cost
200
100
300
800
3,200
12,800
25,600
51,200
76,800
115,200
Wood Cost
-
-
-
150
600
2,400
4,800
-
-
-
Lumber Cost
-
-
-
-
-
-
-
4,800
7,200
10,800
Time Cost
3s
3s
5m
1h
1h
2h
2h
4h
8h
12h
This building is one of the first buildings able to be built by players.
The image for this building shows that mined rock is put into boxes and brought to the surface through a pulley system (the Coal Mine also uses this system), however, its animation shows that rock is loosely put on a large tray and brought to the surface, like an elevator but without sliding doors.
Animation
Edit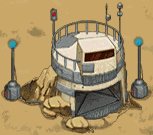 Ad blocker interference detected!
Wikia is a free-to-use site that makes money from advertising. We have a modified experience for viewers using ad blockers

Wikia is not accessible if you've made further modifications. Remove the custom ad blocker rule(s) and the page will load as expected.