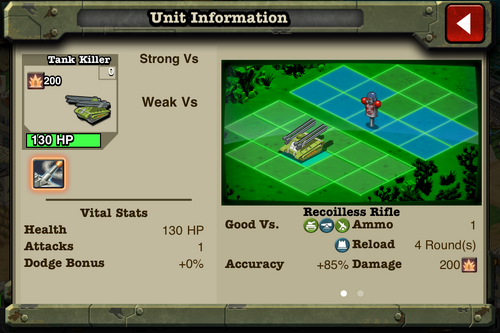 Tank Killer/Pre 1.3
Unit Type

Vehicle

Unlocked

Level 28

HP

130

Damage

Weapon

Recoilless Rifle

Reload Time

4 Rounds

Ammo

1

Accuracy

85%

Line of Fire

Direct

Range

1-3 Rows

Targets

Ground

Production
Healing Costs
Overview
The Tank Killer is a stronger, more slightly accurate version of a Gun Truck. It's 'Recoilless Rifle' weapon can dish out an average of 200 damage to another vehicle, artillery, fortification, or emplacement, making this vehicle deal the most damage in the entire game. It only has one shot, but the damage potential means it can be a devastating addition to your army.The pest perceiving use of this unit is to take down enemy fortifications in one shot.
As the unit's production requires Gears, Tank Killers can be difficult to create. However, through the new pvp system, one has a chance to receive ~6 or so gears for getting the 40 pvp point requirement.
Ad blocker interference detected!
Wikia is a free-to-use site that makes money from advertising. We have a modified experience for viewers using ad blockers

Wikia is not accessible if you've made further modifications. Remove the custom ad blocker rule(s) and the page will load as expected.