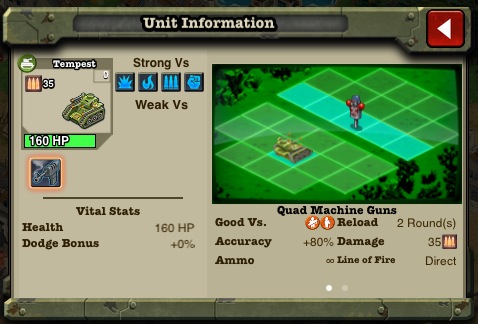 Tempest/Pre 1.3
Unit Type

Tank

Unlocked

Level 31

HP

160

Damage

 35

Weapon

Quad Machine Guns

Reload Time

2 Rounds

Ammo

∞

Accuracy

+80%

Line of Fire

Direct

Range

1-2 Rows

Targets

Ground

Production
Healing Costs

?
The Tempest is a heavy vehicle which is available after Level 31. Also it is a stronger, vehicle version of the Heavy Gunner. Its unit type (Tank) and damage type (Projectile) means it is most effective against infantry groups, but is less effective against armored targets such as another tank. The repair costs of a Tempest versus the healing costs of a Heavy Gunner not very perferable in this case though it is a more effective unit.
That's not to say a couple Tempests would be very useful in handling the errant Raider attacks, as they could definitely shine doing so. Use caution when introducing them to Player-versus-Player matches, as they are less likely to be useful against hardened targets like Riot Troopers or tanks in the front row.
Ad blocker interference detected!
Wikia is a free-to-use site that makes money from advertising. We have a modified experience for viewers using ad blockers

Wikia is not accessible if you've made further modifications. Remove the custom ad blocker rule(s) and the page will load as expected.